Setting Up Promo Coupons- Part 2
  You can further customize your promo by setting more limits.

1. Redemption limit, promo wide: Set a limited number of coupons available for your customers to redeem


2. Redemption limit, per customer: Set a limited to the number of times a customer can use the coupon/promo code




3. Can be used with other promos: Tick this box if you allow this promo to be used in conjunction with other coupons/promo codes


4. Apply this to referral system: Tick this box if you want the current customer to invite other customers to try out your services. This promo will become a coupon that can be stored by the customer. Both the customer and the person they referred can receive the same reward.


5. Require a minimum order amount: Tick this box if the promo applies to a minimum amount of order value


6. Apply to specific services: Tick this box if you want the promo to be applicable only for a set amount of services.
7. Set this promo to private: Ticking this box means that only the business can see and apply it to transactions.
8. Make visible only to specific audience: When this box is ticked, the options become active. This makes the promo created to either of the two audiences: Linked Customers and Non-Linked Customers.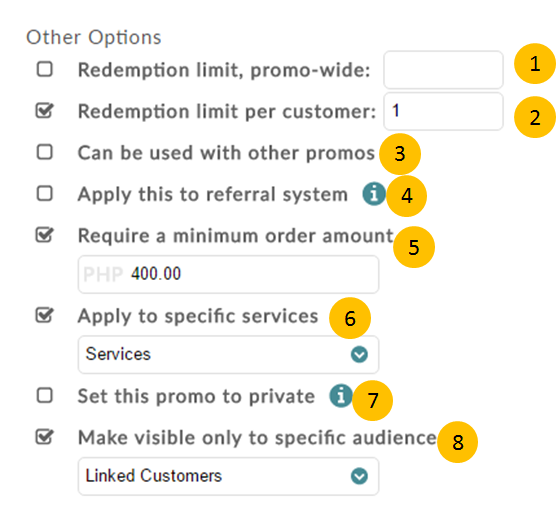 9. Promo Description (Add a description for your promo here: promo details and mechanics)
10. Promo Image (Click on the box and upload an image. The optimal size of the promo picture for uploading is 300 x 300 px. Non-square images will be cropped.)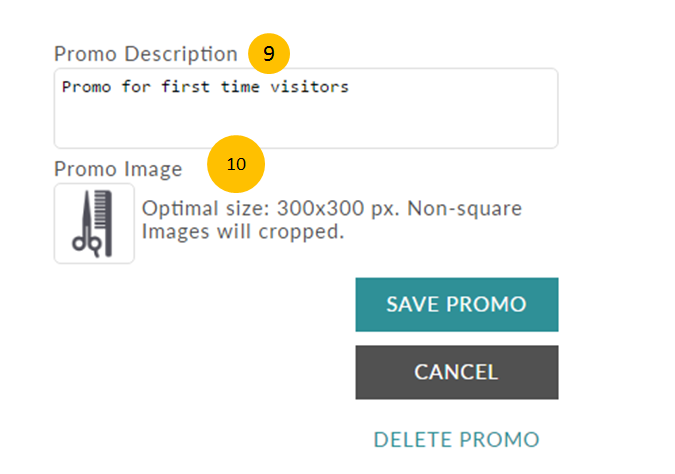 Last updated: March 19, 2017